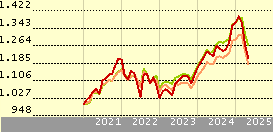 Fonds
7,6
12,3
-1,3
-0,1
17,0
+/-Cat
-0,6
4,7
0,8
1,8
3,2
+/-Idx
-3,6
3,4
-0,9
-0,7
0,8
 
Categorie Benchmark: Cat 50%Barclays US Agg TR&5...
Kerngegevens
Koers
20-09-2019
 
USD 17,86
Rendement 1 Dag
 
0,46%
Morningstar Categorie™
 
Mixfondsen USD Neutraal
Vestigingsland
 
Luxemburg
ISIN
 
LU0689472784
Grootte Fonds (Mil)
20-09-2019
 
EUR 25950,83
Grootte Fondsklasse (Mil)
20-09-2019
 
USD 744,58
Aankoopkosten (Max)
 
5,00%
Lopende Kosten Factor
18-02-2019
 
1,54%
Analyst Report
Allianz Income and Growth's risky approach to generating income is executed by an experienced and stable management team, which supports its Morningstar Analyst Rating of Neutral.When Allianz launched this strategy's US-domiciled version in...
Klik hier voor het analistenrapport
Pijlers Morningstar
Team
Positive
Fondshuis
Neutral
Proces
Neutral
Rendement
Neutral
Kosten
Neutral
Beleggingsdoelstelling: Allianz Global Investors Fund - Allianz Income and Growth AT USD
The investment policy is geared towards generating long term capital appreciation and income. As a long-term objective, the Sub-Fund's fund management seeks a risk profile of the net asset value per share of the Sub-Fund that experience has shown should be comparable with the risk profile of a portfolio consisting of Equities, High Yields and Convertibles. The Sub-Fund seeks to achieve its objective by investing primarily in a combination of common stocks and other equity securities, debt securities and convertible securities. The allocation of the Sub-Fund's investments across asset classes will vary substantially from time to time. The Sub-Fund's investments in each asset class are based upon the Investment Managers' assessment of economic conditions and market factors, including equity price levels, interest rate levels and their anticipated direction.
Returns
| | |
| --- | --- |
| Rendementen % | 20-09-2019 |
| YTD | 18,78 |
| 3 Jaar geannualiseerd | 8,49 |
| 5 Jaar geannualiseerd | 8,45 |
| 10 Jaar geannualiseerd | - |
| | | |
| --- | --- | --- |
| Dividendrendement 12M |   | 0,00 |
Management
Naam manager
Aanvangsdatum
Douglas Forsyth
31-05-2011
Michael Yee
31-05-2011
Oprichtingsdatum
18-11-2011
Categorie Benchmark
Benchmark van het fonds
Benchmark Morningstar
Not Benchmarked
Cat 50%Barclays US Agg TR&50%FTSE Wld TR
Target Market
Role In Portfolio
Standalone / Core
Niet specifiek
Component
Niet specifiek
Overig
Niet specifiek
Primary Objective
Behoud
ja
Groei
ja
Inkomen
Niet specifiek
Hedging
Niet specifiek
Overig
Niet specifiek
Waar belegt het fonds in?  Allianz Global Investors Fund - Allianz Income and Growth AT USD
31-07-2019
Morningstar Style Box®
Stijl aandelen
Morningstar Style Box®
Stijl vastrentend

Assetverdeling
 
% Long
% Short
% Netto
Positie
Aandelen
34,51
0,02
34,49
Obligaties
31,81
0,00
31,81
Kas/geldmarkt
50,09
46,87
3,22
Overig
30,84
0,36
30,48
Vastrentend Portefeuillestatistieken
Effectieve Looptijd
5,45
Duration
3,07

| | |
| --- | --- |
| Top 5 regio's | % |
| Verenigde Staten | 96,75 |
| Azië - Emerging | 2,95 |
| Midden-Oosten | 0,11 |
| Canada | 0,11 |
| Afrika | 0,07 |
Top 5 sectoren
%
Technologie
33,78
Cyclische Consumptiegoederen
15,89
Gezondheidszorg
14,82
Industrie
12,60
Financiële Dienstverlening
10,49