CS Invm Fds 1 - Credit Suisse (Lux) Global Inflation Linked Bond Fund B USD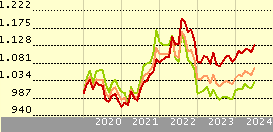 Fonds
-
-
-11,0
4,7
4,6
+/-Cat
-
-
-1,0
0,3
-0,9
+/-Idx
-
-
-1,6
-0,6
-2,7
 
Categorie Benchmark: BBgBarc Gbl Infl Linked TR ...
Kerngegevens
Koers
11-07-2019
 
USD 106,70
Rendement 1 Dag
 
-0,13%
Morningstar Categorie™
 
Obligaties Wereldwijd Inflatiegerelateerd - USD Hedged
Vestigingsland
 
Luxemburg
ISIN
 
LU0458987681
Grootte Fonds (Mil)
11-07-2019
 
USD 907,37
Grootte Fondsklasse (Mil)
11-07-2019
 
USD 54,30
Aankoopkosten (Max)
 
5,00%
Lopende Kosten Factor
07-03-2019
 
1,09%
Beleggingsdoelstelling: CS Invm Fds 1 - Credit Suisse (Lux) Global Inflation Linked Bond Fund B USD
The investment objective of the Subfund is to achieve capital appreciation within defined risk parameters. Investments may be denominated in any currency. In order to achieve this objective the Subfund shall be invested primarily in inflation-indexed debt instruments, bonds, notes, similar fixed-interest or floating-rate securities (including securities issued on a discount basis). The minimum required credit rating is at least investment grade (BBB- from S&P, Baa3 from Moody's or the equivalent). In addition, On average, the minimum investment grade rating of the portfolio is targeted to be at least A (S&P), A2 (Moody's) or equivalent. Additionally the Subfund may invest a portion of its assets in convertible bonds, convertible notes and warrant bonds. The Subfund may furthermore invest up to a maximum of 10% of its assets in equities or other equity type securities and in warrants on such equities issued by issuers from developed countries. In addition to direct investments, the Subfund may use derivatives such as: futures, options as well as swap transactions (interest-rate swaps, total return swaps, etc.) for the purpose of hedging and the efficient management of the portfolio. Furthermore, the Subfund may actively manage its currency exposure through the use of currency derivatives. The Subfund may also hold ancillary liquid assets.
Returns
| | |
| --- | --- |
| Rendementen % | 11-07-2019 |
| YTD | 5,97 |
| 3 Jaar geannualiseerd | 0,96 |
| 5 Jaar geannualiseerd | - |
| 10 Jaar geannualiseerd | - |
| | | |
| --- | --- | --- |
| Dividendrendement 12M |   | 0,00 |
Management
Naam manager
Aanvangsdatum
Alexandre Bouchardy
25-09-2007
Christopher Koslowski
01-10-2015
Click here to see others
Oprichtingsdatum
15-04-2016
Categorie Benchmark
Benchmark van het fonds
Benchmark Morningstar
BBgBarc Wld Govt IL 1-10Y Hdg TR USD
BBgBarc Gbl Infl Linked TR Hdg USD
Target Market
Role In Portfolio
Standalone / Core
Niet specifiek
Component
Niet specifiek
Overig
Niet specifiek
Primary Objective
Behoud
nee
Groei
nee
Inkomen
ja
Hedging
Niet specifiek
Overig
Niet specifiek
Waar belegt het fonds in?  CS Invm Fds 1 - Credit Suisse (Lux) Global Inflation Linked Bond Fund B USD
30-06-2019
Top 5 posities
%
Geen data beschikbaar
Vastrentend Portefeuillestatistieken
Effectieve Looptijd
5,40
Duration
-
Morningstar Style Box®
Stijl vastrentend
Assetverdeling
 
% Long
% Short
% Netto
Positie
Aandelen
0,00
0,00
0,00
Obligaties
98,64
0,32
98,32
Kas/geldmarkt
109,07
107,53
1,54
Overig
0,14
0,00
0,14