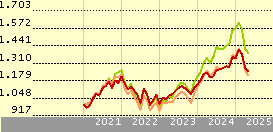 Fonds
7,4
15,9
9,7
20,6
10,7
+/-Cat
15,1
2,8
-8,2
3,9
-3,4
+/-Idx
9,7
1,6
-11,5
-0,3
-3,9
 
Benchmark: MSCI World Growth NR USD
Kerngegevens
Koers
21-05-2015
 
USD 206,26
Rendement 1 Dag
 
1,06%
Morningstar Categorie™
 
Aandelen Wereldwijd Large-Cap Groei
Vestigingsland
 
Luxemburg
ISIN
 
LU0218910023
Grootte Fonds (Mil)
21-05-2015
 
USD 1576,02
Grootte Fondsklasse (Mil)
21-05-2015
 
USD 37,25
Aankoopkosten (Max)
 
-
Lopende Kosten Factor
30-04-2015
 
2,05%

*  Deze rating en het rapport zijn uitgegeven voor een andere fondsklasse van dit fonds. De rendementen, kostenstructuur en valutabeleid kunnen verschillen. Mocht het rapport niet aanwezig zijn dan zijn dit nog rapporten in de oude stijl, deze worden niet meer vertoont. Excuses voor het ongemak.
Analyst Report
There are enough qualities to build strong conviction in this fund.

Rajiv Jain, who won Morningstar's 2012 International-Stock Fund Manager of the Year award in the United States, has been in charge since the fund's inception in 2005. In 2008...
Klik hier voor het analistenrapport
Pijlers Morningstar
Team
Positive
Fondshuis
Neutral
Proces
Positive
Rendement
Positive
Kosten
Neutral
Beleggingsdoelstelling: Vontobel Fund - Global Equity A
Vontobel Fund – Global Equity (the Sub-Fund) aims to achieve the highest possible capital growth in USD.Up to 33% of the Sub-Fund's assets may be invested out-side the aforementioned investment universe. The Sub-Fund may also hold cash.
Returns
| | |
| --- | --- |
| Rendementen % | 21-05-2015 |
| YTD | 15,93 |
| 3 Jaar geannualiseerd | 18,82 |
| 5 Jaar geannualiseerd | 16,58 |
| 10 Jaar geannualiseerd | - |
| | | |
| --- | --- | --- |
| Dividendrendement 12M |   | 0,00 |
| Dividendfrequentie |   | Jaarlijks |
Management
Naam manager
Aanvangsdatum
Rajiv Jain
07-07-2005
Oprichtingsdatum
01-07-2005
Benchmark
Benchmark van het fonds
Benchmark Morningstar
MSCI ACWI NR USD
MSCI World Growth NR USD
Waar belegt het fonds in?  Vontobel Fund - Global Equity A
30-04-2015
Morningstar Style Box®
Stijl aandelen
Assetverdeling
 
% Long
% Short
% Netto
Positie
Aandelen
99,47
0,00
99,47
Obligaties
0,00
0,00
0,00
Kas/geldmarkt
0,54
0,01
0,53
Overig
0,00
0,00
0,00
| | |
| --- | --- |
| Top 5 regio's | % |
| Verenigde Staten | 56,76 |
| Azië - Emerging | 12,84 |
| Verenigd Koninkrijk | 11,23 |
| West Europa – Niet Euro | 10,35 |
| West Europa – Euro | 3,60 |
Top 5 sectoren
%
Defensieve Consumptiegoederen
30,88
Financiële Dienstverlening
23,41
Gezondheidszorg
17,53
Technologie
13,56
Cyclische Consumptiegoederen
9,20