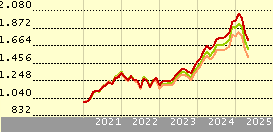 Fonds
-2,4
25,8
4,5
33,9
-5,0
+/-Cat
0,1
-4,9
-3,5
-0,8
-0,3
+/-Idx
-2,5
-8,0
-6,5
-2,2
-1,4
 
Categorie Benchmark: Russell 1000 TR USD
Kerngegevens
Koers
12-08-2022
 
USD 18,40
Rendement 1 Dag
 
2,49%
Morningstar Categorie™
 
Aandelen VS Large-Cap Gemengd
Vestigingsland
 
Luxemburg
ISIN
 
LU1378997875
Grootte Fonds (Mil)
12-08-2022
 
USD 391,15
Grootte Fondsklasse (Mil)
12-08-2022
 
USD 69,98
Aankoopkosten (Max)
 
5,25%
Lopende Kosten Factor
08-02-2022
 
0,80%
Analyst Report
Capital Group Investment Company of America's team changes and tweaks to its growth-and-income approach have yet to pay off, but parent Capital Group's broader strengths are enough to keep the Morningstar Analyst Rating for its cheapest shares at...
Klik hier voor het analistenrapport
Pijlers Morningstar
Team
Above Average
Fondshuis
High
Proces
Average
Rendement
Kosten
Beleggingsdoelstelling: Capital Group Investment Company of America (LUX) Z
The Fund's investment objectives are to achieve long-term growth of capital and income. The Fund invests primarily in common stocks, most of which have a history of paying dividends. The Fund's equity investments are limited to securities of companies that are included on its eligible list. Securities are added to, or deleted from, the eligible list based upon a number of factors, such as the Fund's investment objectives and policies, whether a company is deemed to be an established company of sufficient quality and a company's dividend payment prospects. Although the Fund focuses on investments in medium to larger capitalization companies, the Fund's investments are not limited to a particular capitalization size. In the selection of common stocks and other securities for investment, potential for capital appreciation and future dividends are given more weight than current yield.
Returns
| | |
| --- | --- |
| Rendementen % | 12-08-2022 |
| YTD | -1,52 |
| 3 Jaar geannualiseerd | 15,35 |
| 5 Jaar geannualiseerd | 12,87 |
| 10 Jaar geannualiseerd* | 13,21 |
| | | |
| --- | --- | --- |
| Dividendrendement 12M |   | 0,00 |
Management
Naam manager
Aanvangsdatum
James Lovelace
17-06-2016
Grant Cambridge
17-06-2016
Click here to see others
Oprichtingsdatum
17-06-2016
Categorie Benchmark
Benchmark van het fonds
Benchmark Morningstar
S&P 500 NR USD
Russell 1000 TR USD
Target Market
Role In Portfolio
Standalone / Core
Niet specifiek
Component
Niet specifiek
Overig
Niet specifiek
Primary Objective
Behoud
Niet specifiek
Groei
ja
Inkomen
ja
Hedging
Niet specifiek
Overig
Niet specifiek
Waar belegt het fonds in?  Capital Group Investment Company of America (LUX) Z
30-06-2022
Morningstar Style Box®
Stijl aandelen
Assetverdeling
 
% Long
% Short
% Netto
Positie
Aandelen
92,71
0,00
92,71
Obligaties
0,03
0,00
0,03
Kas/geldmarkt
6,66
0,00
6,66
Overig
0,61
0,00
0,61
| | |
| --- | --- |
| Top 5 regio's | % |
| Verenigde Staten | 87,64 |
| Verenigd Koninkrijk | 5,47 |
| Canada | 2,60 |
| West Europa – Niet Euro | 1,21 |
| West Europa – Euro | 1,15 |
Top 5 sectoren
%
Technologie
19,23
Gezondheidszorg
13,44
Industrie
12,04
Financiële Dienstverlening
10,89
Communicatiediensten
10,34