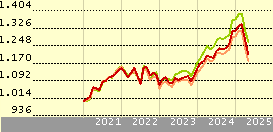 Fonds
9,6
9,3
-3,8
0,7
15,1
+/-Cat
1,3
1,8
-1,7
2,6
1,3
+/-Idx
-1,6
0,4
-3,4
0,1
-1,2
 
Categorie Benchmark: Cat 50%Barclays US Agg TR&5...
Kerngegevens
Koers
20-09-2019
 
USD 14,36
Rendement 1 Dag
 
0,48%
Morningstar Categorie™
 
Mixfondsen USD Neutraal
Vestigingsland
 
Luxemburg
ISIN
 
LU0784385337
Grootte Fonds (Mil)
30-08-2019
 
USD 7772,63
Grootte Fondsklasse (Mil)
20-09-2019
 
USD 207,45
Aankoopkosten (Max)
 
5,00%
Lopende Kosten Factor
11-02-2019
 
0,84%
Analyst Report
BGF Global Multi-Asset Income benefits from a well-rounded management team and a proven approach to deliver income without sacrificing total return. It retains a Morningstar Analyst Rating of Silver. This UCITS-regulated fund has been managed...
Klik hier voor het analistenrapport
Pijlers Morningstar
Team
Positive
Fondshuis
Positive
Proces
Positive
Rendement
Positive
Kosten
Positive
Beleggingsdoelstelling: BlackRock Global Funds - Global Multi-Asset Income Fund D2 USD
The Global MultiAsset Income Fund follows a flexible asset allocation policy that seeks an above average income without sacrificing long term capital growth. The Fund invests globally in the full spectrum of permitted investments including equities, equity-related securities, fixed income transferable securities (which may include some high yield fixed income transferable securities), units of undertakings for collective investment, cash, deposits and money market instruments. The Fund makes use of derivatives for the purposes of efficient portfolio management including the generation of additional income for the Fund. This Fund distributes income gross of expenses. Currency exposure is flexibly managed.
Returns
| | |
| --- | --- |
| Rendementen % | 20-09-2019 |
| YTD | 15,83 |
| 3 Jaar geannualiseerd | 6,35 |
| 5 Jaar geannualiseerd | 7,40 |
| 10 Jaar geannualiseerd | - |
| | | |
| --- | --- | --- |
| Dividendrendement 12M |   | 0,00 |
Management
Naam manager
Aanvangsdatum
Michael Fredericks
01-04-2013
Justin Christofel
01-11-2013
Click here to see others
Oprichtingsdatum
08-08-2012
Categorie Benchmark
Benchmark van het fonds
Benchmark Morningstar
Not Benchmarked
Cat 50%Barclays US Agg TR&50%FTSE Wld TR
Target Market
Role In Portfolio
Standalone / Core
Niet specifiek
Component
Niet specifiek
Overig
Niet specifiek
Primary Objective
Behoud
Niet specifiek
Groei
ja
Inkomen
ja
Hedging
Niet specifiek
Overig
Niet specifiek
Waar belegt het fonds in?  BlackRock Global Funds - Global Multi-Asset Income Fund D2 USD
31-05-2019
Morningstar Style Box®
Stijl aandelen
Morningstar Style Box®
Stijl vastrentend

Assetverdeling
 
% Long
% Short
% Netto
Positie
Aandelen
19,01
0,00
19,01
Obligaties
57,83
0,01
57,82
Kas/geldmarkt
8,15
2,12
6,03
Overig
17,14
0,00
17,14
Vastrentend Portefeuillestatistieken
Effectieve Looptijd
4,77
Duration
2,05

| | |
| --- | --- |
| Top 5 regio's | % |
| Verenigde Staten | 43,21 |
| West Europa – Euro | 13,34 |
| Verenigd Koninkrijk | 9,97 |
| Azië - Emerging | 8,55 |
| Azië - Ontwikkeld | 7,41 |
Top 5 sectoren
%
Vastgoed
17,47
Financiële Dienstverlening
14,60
Gezondheidszorg
13,13
Industrie
11,92
Defensieve Consumptiegoederen
11,11