Capital Group New World Fund (LUX) Z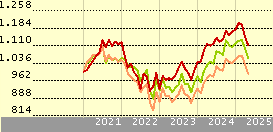 Fonds
4,8
6,9
15,3
-8,2
15,9
+/-Cat
9,4
-5,6
-3,5
4,0
3,9
+/-Idx
10,0
-7,7
-5,3
2,0
4,0
 
Categorie Benchmark: MSCI EM NR USD
Kerngegevens
Koers
18-04-2019
 
USD 12,84
Rendement 1 Dag
 
0,29%
Morningstar Categorie™
 
Aandelen Emerging Markets
Vestigingsland
 
Luxemburg
ISIN
 
LU1481181599
Grootte Fonds (Mil)
18-04-2019
 
USD 548,93
Grootte Fondsklasse (Mil)
18-04-2019
 
SGD 55,51
Aankoopkosten (Max)
 
5,25%
Lopende Kosten Factor
11-02-2019
 
1,03%
Analyst Report
Capital Group New World merits a Morningstar Analyst Rating of Gold for its pioneering approach to emerging-markets investing.The U.S. version of the strategy was launched in June 1999, making it one of the first to use a risk-averse,...
Klik hier voor het analistenrapport
Pijlers Morningstar
Team
Positive
Fondshuis
Positive
Proces
Positive
Rendement
Positive
Kosten
Neutral
Beleggingsdoelstelling: Capital Group New World Fund (LUX) Z
The Fund's investment objective is long-term capital appreciation. The Fund invests primarily in common stocks of companies with significant exposure to countries with developing economies and/or markets. Many of these countries may be referred to as emerging countries or emerging markets. The Fund may also invest in debt securities of issuers, including issuers of lower rated bonds (rated Ba1 or below and BB+ or below by NRSROs designated by the Investment Adviser or unrated but determined by the Investment Adviser to be of equivalent quality), with exposure to these countries.
Returns
| | |
| --- | --- |
| Rendementen % | 18-04-2019 |
| YTD | 18,14 |
| 3 Jaar geannualiseerd | 10,71 |
| 5 Jaar geannualiseerd | 8,91 |
| 10 Jaar geannualiseerd | 10,75 |
| | | |
| --- | --- | --- |
| Dividendrendement 12M |   | 0,00 |
Management
Naam manager
Aanvangsdatum
Jonathan Knowles
28-10-2016
Nicholas Grace
28-10-2016
Click here to see others
Oprichtingsdatum
28-10-2016
Categorie Benchmark
Benchmark van het fonds
Benchmark Morningstar
MSCI ACWI NR EUR
MSCI EM NR USD
Target Market
Role In Portfolio
Standalone / Core
Niet specifiek
Component
Niet specifiek
Overig
Niet specifiek
Primary Objective
Behoud
Niet specifiek
Groei
ja
Inkomen
Niet specifiek
Hedging
Niet specifiek
Overig
Niet specifiek
Waar belegt het fonds in?  Capital Group New World Fund (LUX) Z
31-03-2019
Morningstar Style Box®
Stijl aandelen
Assetverdeling
 
% Long
% Short
% Netto
Positie
Aandelen
87,42
0,00
87,42
Obligaties
3,78
0,00
3,78
Kas/geldmarkt
8,65
0,00
8,65
Overig
0,16
0,00
0,16
| | |
| --- | --- |
| Top 5 regio's | % |
| Azië - Emerging | 28,68 |
| Verenigde Staten | 19,78 |
| Latijns Amerika | 11,30 |
| West Europa – Euro | 9,66 |
| Azië - Ontwikkeld | 9,62 |
Top 5 sectoren
%
Technologie
23,14
Financiële Dienstverlening
16,69
Cyclische Consumptiegoederen
13,73
Gezondheidszorg
9,71
Industrie
8,56